Pianos at NAMM 2022
Source: Singapore Piano Shop & Music Book Online Shop Published: 9/1/2022 7:35:54 AM Clicked: 487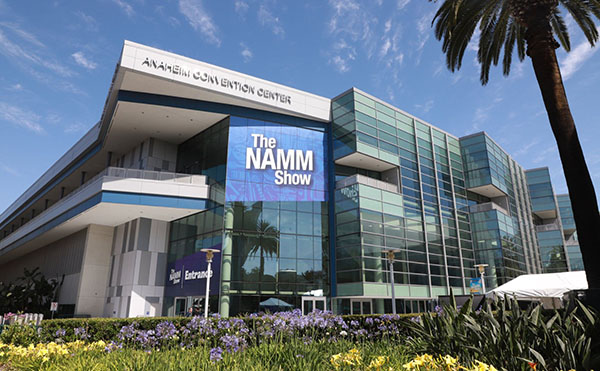 The NAMM Show is back after two years' absence and, as usual, there are new pianos to be seen and heard. The 2022 exhibition, organised by the National Association of Music Merchants took place at the Anaheim Convention Centre in California (3-5 June). The show was somewhat smaller than in 2020, there were fewer exhibitors and attendance figures were expected to be under 100,000 (115,000 in 2020).
exterior view of Anaheim Convention Centre
There were a number of new pianos and piano-related items on display, although as is generally the case at a NAMM show, most were digitals. Nevertheless, there were still some acoustic manufacturers "flying the flag".
Acoustic Pianos
Bösendorfer, C. Bechstein, Fazioli, Kawai and Yamaha were all at the show. But the Pearl River Piano Group (Pearl River, Kayserburg, and Ritmüller brands) seemed to be releasing the greatest number of new products. Kayserburg introduced the GH160C (a 5'3″ baby grand piano) and the KA6X and KX2T upright pianos.
studio photo of Kayserburg GH160C baby grand piano
Kayserburg GH160C baby grand piano
Pearl River itself displayed for the first time its P8 and P9 premium baby grands. Both feature advanced mineral composite keytops, PR 2.0 hammers, Röslau strings, Wurzen A-Grade white felt, mahogany hammer core, genuine ebony wood sharps and full sostenuto middle pedals.
Pearl River Piano Group also introduced a new satin-hand-rubbed finish which is available across the company's three brands.
NAMM 2022 saw Yamaha exhibit its newly released CFX concert grand piano for the first time. News of this piano was previously published here.
Kawai showed its K-300 AnyTime ATX4 (upright) and AURES AR2 (grand) hybrid pianos for the first time. Launched at the end of last year, this will be the first time these have been exhibited.
studio images of Kawai K-300 Anytime ATX4 (upright) and Kawai Aures AR2 (grand)
Kawai K-300 Anytime ATX4 (upright) and Kawai Aures AR2 (grand)
These pianos feature Kawai's new GP Touch muting system, which accurately halts the hammer's movement before striking the string. This allows the digital sound module featured in the Concert Artist range, to take over.
New Digital Pianos
Dexibell introduced the Vivo S10 and S10L digital stage pianos, these replace the Vivo S9. The S10 features Dexibell's exclusive 88-note Hybrid Wood Keyboard.
studio image of Dexibell S10 and S10L digital piano
Dexibell S10 (top) and S10L digital stage pianos
The S10L has a 76-note lightweight keyboard. Both have a 3.2GB memory which holds 178 hi-definition sounds. These are delivered at 48 kHz with 24-bit definition, and unlimited polyphony.
Kurzweil had a new stage piano on its NAMM 2022 stand – the SP7 Grand. This uses the company's latest ATST (Authentic Timbre Synthesis Technology) sound engine. The excellent piano tones, derived from samples of a "German" 9ft grand, are enhanced by the use of both string and pedal damper resonance modelling.
studio photo of Kurzweil SP7 Grand
Kurzweil SP7 Grand
Interestingly, the piano has a mic input. A vocal signal can thus be auto-tuned, have 4-part harmonies added, or used for vocoder-type effects.
Kawai unveiled the ES120 portable digital piano. This replaces the popular ES110 which was launched back in January 2017. The new model features an improved keyboard action, new piano sounds, enhanced Bluetooth connectivity, and newly styled casework, which comes in black, light grey, or white.
studio photo of Kawai ES120
Kawai ES120 portable digital piano
The CN201 and CN301 console digital pianos also debuted on the Kawai stand. These instruments are the successors to the Kawai CN29 and CN30 models and feature an improved Responsive Hammer III action, an enhanced amplification system, updated Bluetooth connectivity and a general redesign.
Studiologic showed its top-of-the-range Numa X Piano GT which is designed as a stage or studio instrument. Again this was released last year but is being seen at NAMM for the first time.
studio photo of Studiologic Numa X Piano GT
Studiologic Numa X Piano GT
The piano uses the company's UX Logic technology which is sampled-based. There are three acoustic piano emulations German, Italian, and Japanese, and of course Rhodes, Wurlitzers and electric grands.
Global online manufacturer/retailer Donner has launched the DDP-80. Designed for the home, this attractive-looking digital piano is a simple instrument with just one piano voice.
studio photo of Donner DDP-80 digital piano
Donner DDP-80 digital piano
The Donner DDP-80 with its 88-note weighted keyboard and 20w speaker system measures just 49in x 14in x29.3in (126.8cm x 35.5cm x 74.5cm) and will fit virtually any room.
Keyboards
If you have small hands and find playing the piano rather a "stretch" (sic) Narrow Keys has the answer. In collaboration with PianoArc, this new company released the NK5.5 88-note weight keyboard.
image showing the NK5.5. alongside a standard width keyboard instrument
Comparison between the Narrow Keys NK5.5 and a standard width keyboard
The standard width of an octave is 6.5in (16.5cm). The NK5.5's octave span is 5.5in (14cm) making it far easier for pianists with smaller hands. In other respects, the keyboard is the same – [white] key length is 6in (15.24cm), and key weighting averages out at 52g.
Two European companies exhibited "modular" pianos – Triple G Ventures & Synthogy was showing the Pocket Piano, and Piano de Voyage unveiled its new Model B (Model A has been out a while now).
studio photo showing the Model B
Piano de Voyage's Model B (4 modules)
Both these products consist of keyboard modules that slot together to make up a complete digital piano.
studio image showing the Pocket Piano
The Pocket Piano (8 modules, partially assembled), and a pedal module
The Pocket Piano splits up into eight modules with an 87-note overall span, and the Model B, with its new "Compact Hammer Action" keyboard, splits into four.
Some of the above new products will be examined in greater detail in future articles.
Other companies showing pianos at NAMM 2022 include:
Artesia Pro (digital pianos)
Casio (digital pianos)
Granfeel (acoustic piano components)
Rhodes (electric pianos)
Nord (digital pianos)
Viscount (digital pianos)